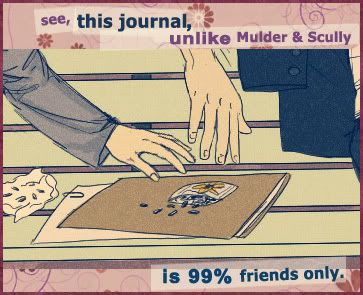 This journal used to be
like
M&S: "kinda friends only". Now, all my fanart & icons are over at my creative journal, so...
...HERE FOR MY FANART / ICONS?
Go friend my creative journal
welost9minutes
. All of it is public! Free fanart
for everyone.
(Don't
attempt to
join
it. Just add it to your
watch
!)
HERE FOR ME? (aw)
If we know each other from somewhere and have interacted before,
comment here
to let me know and I'll
probably
add you back. If I don't do so right away, don't feel offended; I'll
wait
until we interact more and get to know each other better!
Thanks!